Physical therapy is very useful for addressing many different types of injuries and underlying health issues. Chiropractors can provide you with an overall plan of action using physical therapy to relieve your pain and enhance your range of motion following an accident, personal injury, surgery, or a health condition. At Chiro-Med Health & Wellness Centers in Orland Park, IL, our team is dedicated to improving your life with physical therapy.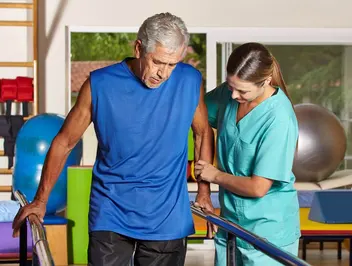 What is Chiropractic Physical Therapy?
Chiropractic physical therapy is performed by a licensed health professional with years of education and training. It focuses on managing pain and discomfort through non-surgical techniques. You may receive manual or hands-on therapy for treating your condition, and you will also receive a wellness plan to help you manage your pain following your sessions.
Chiropractic physical therapy focuses on back, neck, and joint pain as well as pain in the arms and legs. Physical therapy is also useful for reducing the frequency and severity of headaches. Our chiropractor will perform manipulations and adjustments that will bring your body back into perfect alignment so it can begin to heal itself naturally and without the aid of prescription medication or invasive surgery.
Conditions Treated
Physical therapy is effective in relieving pain and improving your range of motion following a personal injury. By allowing you to move with ease, you can build strength more easily, which will help you avoid pain and future re-injury. Chiropractic physical therapy is also very useful in addressing conditions such as Parkinson's disease, stroke, COPD, rheumatoid arthritis, osteoarthritis, and multiple sclerosis.
Types of Physical Therapy
Depending on your diagnosis, we may recommend soft tissue and massage therapy, therapeutic stretches, and exercises performed both in our office and in your home. Our chiropractor may also recommend physical modalities, dietary and nutritional counseling, and lifestyle modification so that you learn to move correctly without the pain associated with your condition or personal injury. We believe in healing your entire body through non-invasive treatment.
Personal Injury Chiropractor in Orland Park, IL
At Chiro-Med Health & Wellness Centers, our chiropractor has years of experience providing residents of Orland Park, IL, and the surrounding areas with natural and effective physical therapy. We can help to relieve any kind of pain you may be experiencing while making an ongoing treatment plan designed especially for you. For more information on physical therapy or to schedule an appointment, call us at (708) 403 2727.